Online Rehearsal Room
Series One: The Foundling Hospital Anthem ( HMV 268)
GF Handel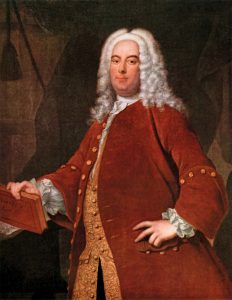 Two Sessions remain for this series,
Thursday 18th June 20.00- 21.30
More information about our activities for summer and autumn

HERE
---
---
FIRST, THE BASICS….

Please try not to disrupt the rehearsal  by following these five simple rules…
You must remain  on MUTE unless asked to unmute

Listen to the session through HEADPHONES ( any type)

If you have a QUESTION for Brian or the Zoom host ( usually Olivia), please wave your hand until noticed or type your query in 'Chat' and it will get picked up

If you have a persistent TECHNICAL PROBLEM , it often resolves of you select Leave the Meeting and then re -enter

Have your second device – usually a mobile phone- ready to take LIVE RECORDINGS during the session when asked to do so
These sessions are open to all members of IDC. If you signed up long ago and never made it to one of our events, it could be a perfect way to get involved? First and foremost, please help things  to run smoothly by going through both the Welcome Video and the Quickstart Guidance.  Click HERE
You will receive a new Zoom main rehearsal room link by email on the morning of each rehearsal  (if necessary, check your spam folder). The same link will be posted on the WhatsApp IDC News group. Please join Zoom by 19.50 if possible so that we can start on time with everybody connected and ready to sing. You will need to be able to watch, be visible to others on Zoom, listen on headphones and possibly make recordings of yourself during this session.
---
---
REHEARSAL INFORMATION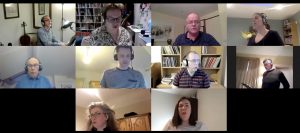 Now click

HERE

for the evening's rehearsal programme with  links to the music that you will need to prepare and bring
---
AND AFTER YOUR REHEARSAL…
..No Recordings, No Choir!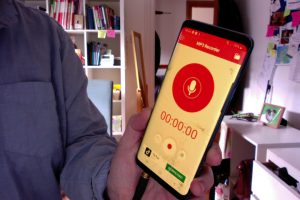 Without your recordings, we have no choir.
Please save each recording file you have been asked to send in the following way
Voice typeName of movementYourinitialsTakenumber 
eg AltoBlessedaretheyODTake1
Straight after the rehearsal, please email your recordings in mp3 or mp4 ( eg phone camera) format to Brian for mixing via idcrecordingsonly@gmail.com
or, even better,  upload direct to the following voice-specific folder ( NB these links are for recordings invited from   4.6.20 onwards only)
Sopranos DB CLICK  HERE
Altos DB CLICK HERE
Tenors DB CLICK HERE
Basses DB CLICK HERE
---
IDC Video Project
So, much to our horror, not only are we asked to submit our line recordings, but Neil and Olivia would also like us to submit a Selfie and a short Video Clip lasting just 30-60 seconds. Only the video will be used and the clips will be arranged together with the final, composite audio recording.
Read more on what type of short videos we are looking for HERE  
Send your Selfie and Video Clip HERE