Our beginnings…..
The choir was born when the European Doctors Orchestra (EDO)  started planning for a performance of  Mahler's Symphony No 2 "Resurrection" at the Ulster Hall, Belfast in November 2017.
The magnificent finale of this masterpiece requires the addition of  a chorus to the sizeable orchestral forces involved in the performance. The Belfast EDO Sub-Committee decided to recruit singers from Irish healthcare settings, to invite friends of EDO and to offer some EDO-sponsored places to medical students. The quality and enthusiasm of applicants reflected the powerful affinity between medicine and music. They were delighted when talented Irish conductor Brian MacKay agreed to take on the roles of Musical Director for this newly-formed Irish Doctors Choir and Chorus Master for the EDO's forthcoming performance in Belfast.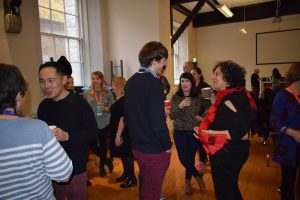 The choir's first task has been to prepare for its performance with the European Doctors Orchestra.
The very first time that some of them sang together was at a workshop run by Brian MacKay in the Harty Room at Queen's University Belfast in February 2017. Gareth Lewis provided piano accompaniment.  Later in the year they were back together again at a workshop in the Royal Hospital Donnybrook where they sang an impromptu concert for patients and carers: As well as its primary commitment to performing major classical works, Brian wants the choir to develop a repertoire for short  'pop up' performances in healthcare settings. Each time they get together, they hope to sing for patients, clients and carers during rehearsal breaks. As music-lovers, they are keen to share the gift of  music with others.
During November, the full chorus were in rehearsal in Belfast for Mahler Symphony No 2 'Resurrection". Some IDC members gave short pop up performances at the Belfast City Hospital and Mater Hospital. They also appeared at ArtsCare NI's  Mahler fringe event  for an invited audience of Dementia sufferers and carers at the Seamus Heaney HomePlace, Bellaghy.