IDC MUSICAL DIRECTOR AND SECRETARY CHAT ABOUT THE CHOIR
---
Beginnings, and an epic choral symphony

The choir was born when the European Doctors Orchestra (EDO) started planning  for a performance of  Mahler's Symphony No 2 "Resurrection" at the Ulster Hall, Belfast in November 2017.
The magnificent finale of this masterpiece requires the addition of  a chorus to the sizeable orchestral forces involved in the performance. The Belfast EDO Committee decided to recruit singers from Irish healthcare settings and to offer some EDO-sponsored places to medical students. The quality and enthusiasm of applicants reflected the powerful affinity between medicine and music. They were delighted when talented Irish conductor Brian MacKay agreed to take on the role of Musical Director for this newly-formed Irish Doctors Choir.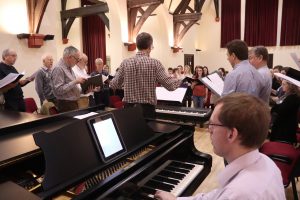 The very first time that some of them sang together was at a workshop run by Brian MacKay in the Harty Room at Queen's University Belfast in February 2017. Gareth Lewis provided piano accompaniment.  Later in the year they were back together again at a workshop in the Royal Hospital Donnybrook where they sang an impromptu concert for patients and carers: As well as its primary commitment to performing major classical works,  the choir wanted  to develop a repertoire for short  'pop up' performances in healthcare settings.  As music-lovers, they are always keen to share the gift of  music with others.
By November 2017, the full chorus were in rehearsal in Belfast for Mahler's Symphony No 2 'Resurrection"and they achieved their objective of singing without their  scores. The emotional  impact was simply unforgettable
Here is a short clip taken during our first rehearsal with magnificent EDO
---
Moving on to a treasure trove of classical music..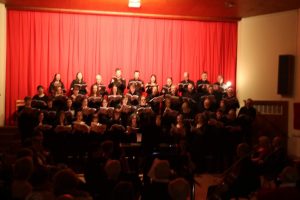 Just four short months later, with Musical Director Brian MacKay, the choir rehearsed and performed the Rachmaninov All Night Vigil in the beautiful setting of An Grianán, Termonfeckin, Co Louth. This stirring and atmospheric acapella work was performed in aid of a local charity, The Gary Kelly Cancer Support Centre.
Irish Doctors Choir fell in love with the welcome and the secluded surroundings of An Grianán.  They returned there for a residential weekend in Spring 2019 when, as well as working to build a repertoire for informal invitation performances around the country, they dropped in to Lourdes Hospital to give an impromptu performance for patients and staff. Their next visit to An Grianán is scheduled for March 2020.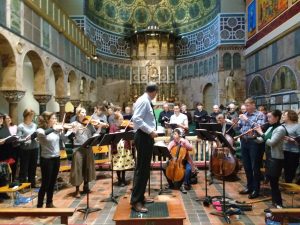 In November 2018, IDC were in Newman University Church St Stephen's Green  giving a historically-informed performance of music by JS Bach, the Advent Cantatas and the double motet Singet dem Herrn. They were delighted to welcome soloists  from the early music group Sestina along with a sinfonia of specialised baroque players. This was an extraordinary opportunity for the choir and their performance was warmly received by a capacity audience. The benefitting charity was ARC Dublin.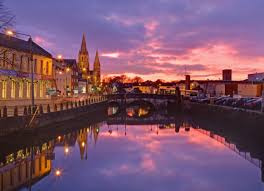 In 2019, the Choir has been holding workshops to prepare for an autumn concert in Cork which will be in aid of the Mercy Hospital Foundation. This time, Brian MacKay and the choir will be leaving  the glorious baroque era to explore the equally exciting contemporary world of the late 19th/ early 20th Century in a programme of music from Russia and the USA.  Their performance, accompanied by two grand pianos,  will include works by Rachmaninov, Borodin and Leonard Bernstein.
This will be their first visit to Cork city but surely not their last.
---
Small is beautiful.  Invitation concerts and pop up performances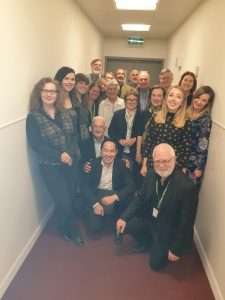 IDC  have come together  in smaller groups for informal invitation performances involving simpler repertoire. During their Mahler 2 rehearsals , some IDC members gave short pop up performances at the Belfast City Hospital, BCH Cancer Centre  and Mater Hospital. They also appeared at ArtsCare NI's  Mahler fringe event  for an invited audience of Dementia sufferers and carers at the Seamus Heaney HomePlace, Bellaghy. Six months later they were 'on tour' starting  in Northern Ireland for an  informal invitation performance at NIMDTA's Educational Excellence Day  before travelling to the Royal Hospital to appear at a Friends Of Royal Hospital  Donnybrook benefit concert. Each time the choir line up was significantly different, featuring 16 to 20 singers,  but always with Brian MacKay at the helm.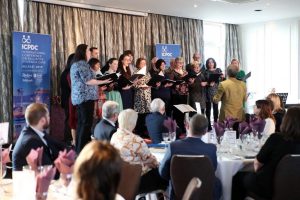 In early summer 2019 they were at the Belfast International Conference of Palliative Dementia care's reception in the Europe Hotel and soon afterwards at the RCPI-hosted  9th Europaediatrics in the Convention Centre Dublin. Occasions like these give them the chance to perform more simple repertoire just for the joy of singing together . In these  circumstances, with international delegates in mind, the choral programme tends to have an Irish flavour…with a few surprises thrown in..
---
IDC now has almost 200 experienced singers on our books. Wanting to hear more and keep up to date? Why not read our blog?…