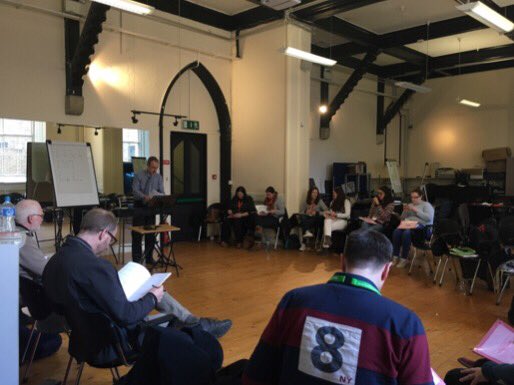 We'd a great rehearsal and workshop day with Brian yesterday in Dublin. About half the singers signed up top the Rachmaninov All Night Vigil performance planned for Saturday 14th April. He characteristically put us through our paces with energy and precision, concentrating on pronunciation, rhythm and structure of the work as he went through the sections in a carefully planned sequence.
We learnt two specific and important rules on Church Slavonic pronunciation. Many consonants are 'softened' by adding a soft 'y' sound. For instance, the English 'a' sound needs to broadened as if vocalising for the vowels of the word 'blue' or it is comical to a Russian-speaker. I don't think that is the effect we'd be trying to achieve in such a spiritual work…
We spent much time bringing the complex split voice parts together, less by counting than by getting a feel for the rhythms used within each section. Brian extracted and expounded the rhythms for us and applied them using Kodály methods of singing polyphony without the text…remember ta, ti ti, tiri tiri? While it is used to teach children pitch and rhythm, Brian was able to tell us great story of a choir that was formed by auditioning 1000, narrowed down to a small number, The successful singers were mainly technically accomplished professional singers and teachers. Yet, the first practice revealed how the conductor had to use such simple methods to bring them together. If it worked for them, it certainly helped us!
I feel much better and am no longer daunted by the more difficult sections. A workshop like this is well worth the effort, as it has broken the back of learning the piece and I'm now enjoying practicing much more. I also feel that we are being generally up-skilled by working with Brian this way.
Here's looking forward to the 14th April!  We will shortly send out details of the residential rehearsal weekend (Friday and Saturday) and Saturday performance.
You can still get audience tickets using the phone number at the bottom of our home page. If you are a singer joining us and couldn't attend this workshop, then make sure you log in to the members' section of the website (email us for login details – see email icon at top of our website home page). Listen to the pronunciation guides. Failing that, Brian has assured us that the performance edition of the score (Rachmaninov All Night Vigil, Opus 37, by Musica Russica, 1992 edition) has the best transliteration and pronunciation guide he has seen.
The photo is courtesy of the excellent Alto and Anatomist / Medical Educator, @drjaneholland.  If you want to learn more about the Kodály Approach, there is information on this website:
http://www.britishkodalyacademy.org/kodaly_approach.htm
Neil
https://irishdoctorschoir.ie/wp-content/uploads/2018/03/IDC-RANV-Workshop-24.03.18-.jpg
385
514
Neil Black
https://irishdoctorschoir.ie/wp-content/uploads/2017/11/IDC2.png
Neil Black
2018-03-25 16:28:24
2018-12-02 14:21:51
Rachmaninov All Night Vigil Workshop 24.03.18