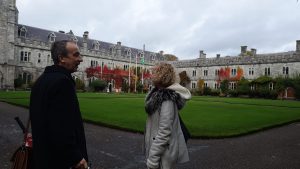 As others sat in cosy homes, enjoying seeing the best team win the Rugby World Cup, the intrepid Cork team were preparing for their local rehearsal. Brian and I arrived late as our train had been hit by weekend engineering works. On the way down, I entertained him with live comments from  the Cork Singers WhatsApp group. They were clearly at work on their Russian scores.
We received the warmest greeting at Kent station from Mairead and Brian, two of our Cork hosts, and we were soon whisked to the UCC campus. It seemed like an easy journey along the Lee to get there.
UCC will be our gathering place on Thursday 21st. It provides a beautiful setting, with a cluster of buildings tracing the growth of the college with fine lawns and parkland. The gorgeous Aula Maxima was built in neo-gothic  style in 19th Century. Complete with Tudor-look wooden ceiling beams and beautiful medieval stained glass, it really has a wow factor and yet provides an intimate performing space. It will exceed your expectations.
Our rehearsal space is in the adjacent  Brookfield Healthcare Sciences Complex, a fine state-of-the-art building, with an impressive blend of old and new architecture ….and a basement car park. Its all well signposted on campus.
It was great to meet up with Aislinn there and to enjoy some coffee, croissants and fresh orange juice before getting to work. Of course Aislinn had already got everyone started on our website learning aids and they had been going through Gareth's line recording and Brian's pronunciation advice together on the classroom's big screen. IDC are definitely an industrious bunch of people.
'Small is beautiful' or so they say, and around six Saturday singers worked with Brian on Rachmaninov songs 1 and 3. We started with getting to know how his hand-written transliteration worked and speaking  the text rhythmically at increasing speed. Then we sang the melodies before adding the words. This was an invaluable clue about how to work on this music. Get the words accurate and rhythmical, ideally with a metronome, then speed the tempo up gradually before adding the melody. Brian had also given me a useful hint on the way down; don't underestimate the West Side Story…OK point taken!
After this useful workout, our hosts treated us to an super lunch on campus while they described the Cork committee's plans for the event. We can expect opt-in evenings after rehearsals; informal welcome drinks in the Kingsley on Thursday, beer and pizza at the Franciscan Well on Friday and our event dinner at Rossini's. The emphasis will be fun and affordability.  More information will be coming out about the arrangements complete with maps and advice from the home team.
————————
Brian hot-footed it from Cork to Dublin for the second workshop on Sunday 3rd. We were much greater in number that day. We worked hard on Rachmaninov, focused areas of the Borodin and the entire West Side Story Choral Suite. Parallel with the workshop, online discussion of Russian spoken and sung vowel pronunciation took even our own members by surprise. I mean, how often do you hear someone talk about their Russian teacher?
This will be a gem of a weekend!
Olivia & Neil
Book your audience tickets early! Click
HERE
 to book.
https://irishdoctorschoir.ie/wp-content/uploads/2017/11/IDC2.png
0
0
Neil Black
https://irishdoctorschoir.ie/wp-content/uploads/2017/11/IDC2.png
Neil Black
2019-11-09 18:37:15
2019-11-12 15:56:14
Pre-Concert Workshop, Cork 2 and Dublin 3 Nov: language, pace and cohesion