What was different about the 4th IDC big weekend event?  So far, Mahler 2nd Symphony,  Rachmaninov All Night Vigil, Bach for Advent, so in our first 18 months we certainly hit the ground running. Well, this was more time to take stock and consolidate.  We have learnt loads technically and about our ensemble so far, but this was a rehearsal and workshop weekend primarily with a little performance at the end.
How did this happen? As we've held concerts now in 3 parts of the island, we have drawn attention and have been invited to 6 conferences so far..but what do we sing? What if we are caught short in an airport (don't be funny – I mean asked to sing)? So, we needed some shorter repertoire. Simple, isnt it?
Why not take advantage of the opportunity and throw in some quality recording, so we have some clips to share online? And, oh, what about a little invited coaching for small groups to enhance what Brian has been doing with us? An AGM, a committee meeting, a wee beach walk….now we have a weekend. Well, that was what was on paper. Would it be attractive to members, though?
Almost 40 members booked in. What was even more encouraging were the new members. Coaching covered fundamental points like maintenance of tone through a note right too the finish. We are very grateful to Liz Hilliard and Jeffrey Ledwidge of
Chamber Choir Ireland
for the time they took with us, their insights and clarity they taught them with.
We had a smashing evening of food, craic and singing, led by Dave and the Ravers. The Galway Girl was as great a hit that night as any. I'm pretty sure that Alex pledged his troth to us collectively. The conscientious would slip off for walks, or was it penitence? Such high culture events wouldn't be the same without fine wine and cheese. Many thanks to Michael who used validated adult education principles to get us to appreciate the wine and Cathy and John for ensuring that we all got a liberal sprinkling. John Keats said "Give me books, French wine, fruit, fine weather and a little music played out of doors by somebody I do not know." Well, we did better, as we sampled even Chinese wine and enjoyed a lot of music played and sung by members we knew very well and in the most cosy of bars.
Musically,  we covered contrasting pieces. Die Nachtigall was a warm and delicate German folk song, situated between warm oompagh and formal precision where Brian noticed something new, a single note rise above the chorus; even the well-worn can surprise. The Blue Bird was a most beautiful song, ethereal, yet poised. We were schooled to maintain the tone and finish in notes with voice imitating instruments as it was of old, to allow energy in the following silence. Work on resonance of middde and eastern european-style tones in Bororogitse Devo and Die Nachtigall helped take Palestrina's Sicut Cervus out of it's marble cathedral unto the warmth of humanity and community of the monastic chapter house itself. Important contrast was demonstrated between conductor direction and choral ensemble when finishing notes; it's something that happens during a performance more healthily than many a practice when focus brings the chorus together and refines the finish of a note by feel, this being the literal ensemble. Sometimes, a minimalist approach to direction by a conductor is what us needed to allow the chorus to complete a tidy finish.
We can't forget the dramatic focus the presence of a sound engineer brought to us. The intensity of concentration in those few hours brought the chorus on by days of rehearsal time.
After all this, we did blow the socks off the audience in the Lady of Lourdes hospital chapel with Bogoroditse Devo at the end. This prep has been invaluable opportunity technically and, on the back of Bach for Advent, has pushed up our confidence to a magnificent level.  The ferocious intimacy of singing together on this residential has done us the world of good and truly introduced our German and Finnish singers to the Irish psyche…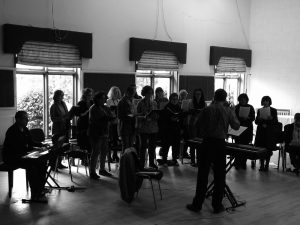 https://irishdoctorschoir.ie/wp-content/uploads/2019/02/WhatsApp-Image-2019-02-23-at-15.24.10.jpeg
1200
1600
Neil Black
https://irishdoctorschoir.ie/wp-content/uploads/2017/11/IDC2.png
Neil Black
2019-03-09 20:33:34
2019-11-12 15:57:07
IDC Rehearsal & Workshop Weekend 22-24.02.19, An Grianan, Termonfeckin