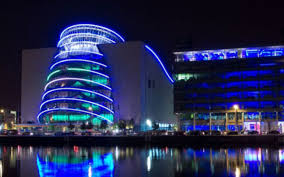 REHEARSAL WED 12th June RHD
The Royal Hospital Donnybrook, Bloomfield Avenue, Dublin D4 D04 HX40.  We start at 7pm  and should  finish by 9.30 at the very latest (if you will be late and/or need a snack on arrival let us know.There will be T/C and biscuits in the break). Please bring the music below ready-to sing in a black folder.
EVENT THURSDAY 13th  June Convention Centre Dublin
Please present to the reception desk CCD Dublin at 1800 or as soon after as you can and let them know that you are singing with  IDC. You will then be directed to our secure green room.  The ceremony  begins at  7pm in the main auditorium but we line up off stage . This is a college event and a reception  for delegates, opening with the  the conferring of honorary fellowships etc, followed a children's' dancing group with the IDC to close.  The whole think to last around 90 minutes. The organising committee would like us to present a 'taste of Ireland' to their international delegates in particular . Dress code for us is  smart casual, men = jackets no ties -. Please bring the music below printed out in a black folder.
PROVISIONAL PROGRAMME
Brian has confirmed the programme and all the pieces you will need to bring are listed below. Click on each one to print out the music.
In line with our host's request, he would like us to present part of our Irish Song repertoire for this short  appearance. It is not complicated music but the challenge will be to give a fantastic performance!!
Gentlemen please note that Lagan Love is ladies only