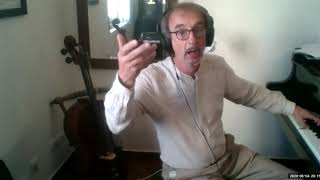 AUTUMN CONCERT WORKSHOP SATURDAY 12th SEPTEMBER 11-4

CLICK ABOVE FOR THE WORKSHOP TIMETABLE AND ZOOM LINK
This is free for signed-up  Autumn Concert participants or a €10 Taster for other members and it will feature music for our autumn concert, with tutti and small group sessions including recording work
Led by Musical Director Brian MacKay, it will take place on Zoom (Zoom invite will be sent to all participants within 24 hours fo the event).
You will need two devices – one to attend the zoom meeting and to play tracks and the other ( usually a phone) to record your voice with a video clip for projects during the workshop.
You will also need headphones/earbuds as these must be worn at all times for a rehearsal.
An ethernet connection to zoom is ideal to minimise latency
Music for the event will relate to our concert programme. It will be posted here soon
If you haven't responded on our Doodle scheduler, please do so asap  https://doodle.com/poll/v5vqmupksrmhkask
CLICK ON IMAGE ABOVE FOR SCORES AND RECORDING LINKS FOR THIS WORKSHOP