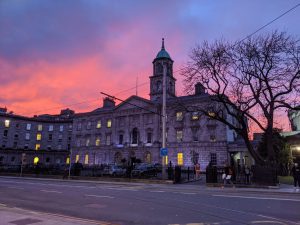 "Two Hundred And Seventy Five Years. Almost One Million Babies. One Maternity Hospital.
This year, we are celebrating 275 years since the establishment of The Rotunda Hospital, Dublin. The Hospital's Founder, Bartholomew Mosse, was determined to improve the appalling conditions in which Dublin's poorest women were forced to give birth. Through persistent fundraising he started the original Dublin Lying-In Hospital as a maternity training hospital, the first of its kind. The Rotunda is unique as an institution in that it has continued to provide the longest, unbroken record of service to women and babies since its foundation.
Over the past 275 years, standards in maternity care have vastly improved thanks to better research and training. Today, much like in Mosse's time, fundraising continues to play a major role in supporting the hospital. Donations provide funding for vital equipment, research and infrastructure that makes exceptional maternity care possible.
Our plans to hold a concert featuring the music of Handel and others had to be postponed due to Covid-19. However, we are very grateful to the Irish Doctors Choir for arranging a virtual performance of excerpts from Handel's Hospital Foundling Anthem to raise funds to support the Rotunda Hospital.
We will be honoured to share this recording with you on Culture Night, September 18th at 4PM with introductions from Prof. Michael Geary of the Rotunda Hospital and Choir director Brian MacKay. "
---
On Friday September 18th 2020, the Rotunda Foundation released our recorded performance combined with an introduction by Prof Mike Geary and a super sequence of images showing the past and present of the hospital. You should  be able to find this on Facebook.
The appeal is now closed. It raised €2,000 for the Rotunda Foundation. You can still donate to them by visiting their web page
Click HERE to view the choir version of our video that was shown at CODI Choral Festival in 2020
d
https://irishdoctorschoir.ie/wp-content/uploads/2020/09/Rotunda-2.jpeg
1200
1600
Olivia Dornan
https://irishdoctorschoir.ie/wp-content/uploads/2017/11/IDC2.png
Olivia Dornan
2020-06-05 16:16:13
2020-11-30 09:35:03
Our Foundling Hospital Anthem recording streamed on Dublin's Culture Night....